Learn about wines from Bordeaux, France and enjoy a French gourmet dinner in an international atmosphere.
For three hours, you can learn from wine connoisseurs and experience the well-matched pairings of gourmet French food and exceptional Bordeaux wine.
The gourmet meal includes an amuse-bouche, starter, main dish, dessert, and coffee or tea at the end.
The Bordeaux Wine Seminar brings an educational seminar, wine tasting, and a gourmet dinner all together in one convenient location for beginner and expert wine lovers alike.
Ideal for those finding a balance between a wine tasting, educational seminar, and a gourmet dinner, the Bordeaux Wine Seminar will broaden your understanding and appreciation for fine food and fine wine.
The ambiance of ARGO is simply elegant. Upon entering the restaurant, there is a feeling of both grandeur and intimacy. The view on the Imperial Palace Garden is wonderful. Over all, the casual yet sophisticated atmosphere beautifully represents the classic traditions of the French culinary experience.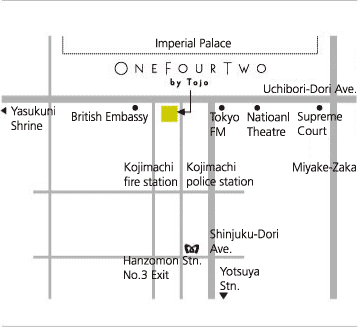 Argo Access
Argo inside the One Four Two building
1-12,Kojimachi,Chiyoda-ku,Tokyo 102-8525
One Four Two by tojo 9F
Tel.03-3265-5504
3 minutes walk from Hanzomon Station ( Exit 3 )
Tokyo Metro Hanzomon Line